Weekly Open Practice Sessions On Wednesdays

Our weekly Ironman sessions are designed to provide motorsport enthusiasts the opportunity to get fit behind the wheel. The sessions provide drivers with a taste of endurance racing, allowing them to work on their race craft, driving technique and to get fit whilst having fun! Each week we change the track configuration ensuring our customers get to experience different track layouts.
Step-by-step Guide to Enter
Comply with the minimum height and age requirements per category before registering for your race.
Drivers require a minimum of 5 Arrive & Drive karting sessions prior to participating OR a lap time of 1min18sec or less.
Register and pay for your Ironman session online.
Senior Online Booking
Junior Online Booking
Loyalty Card
Your 7th Ironman is on the house!
Collect your loyalty card at the reception and make sure to get it stamped each Ironman to receive your 7th Ironman Free!
T&C's
-No backdating, if you don't get a stamp we cannot back-date the stamp.
-Your card is your responsibility, no concessions will be made for lost cards.
-The card is only valid for one person, no combining of sessions.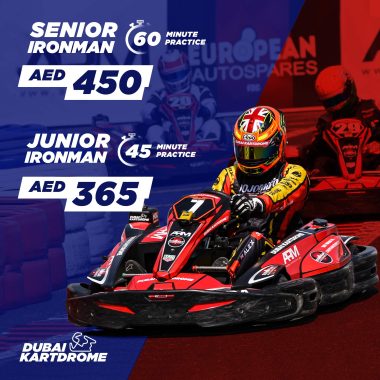 -Ages 15 and up
-Outdoor Circuit
-60-Minute Session
-AED 450
-Ages 7 to 14
-Indoor or Outdoor Circuit
-45-Minute Session
-AED 365