Karting Health & Safety
We're doing everything possible to keep your karting experience safe and fun.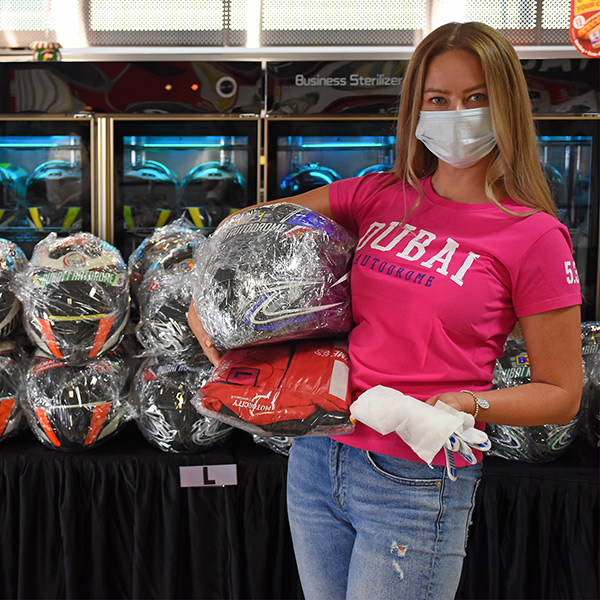 UNPRECEDENTED TIMES
In order to meet the safety orders of the World Health Organisation and the Dubai Government, we've implemented new health and safety products and procedures to remain free from COVID-19. This includes state-of-the-art sanitising equipment, social distancing customer journeys and more, giving you peace of mind and allowing you to enjoy your karting session and focus on those lap times!
A limited number of guests are allowed per session, giving you a chance to beat your personal best. Drivers only; no spectators allowed.

No walk-ins; only online bookings will be accepted.

First lap is an orientation lap which usually takes 2 – 3 minutes behind a pace kart.

Exclusive entry and exit zones. Your path will never cross with other customers in other sessions and will follow a strict flow path.

Your path will never cross with other customers in other sessions and will follow a strict flow path.

HELMETS, GLOVES, OVERALLS & KARTS
We encourage you to purchase your own helmet and race suite if you intend on karting multiple times. If you would like to purchase a suit and helmet, this can be purchased at reception. (COVID-19 Precautions apply)
If you would like to use our helmets and suits, you have the peace of mind knowing that they are sanitised after each use in a state-of-the-art medical grade sanitiser machine–the very same equipment used in all Dubai Hospitals during the pandemic.
No fitting rooms on-site; please come prepared wearing comfortable clothes that you can put your race overalls over.
We have disposable one-time use gloves and balaclavas to use while karting.
Karts will be sanitised on all touch points after each session including steering wheels and seats.
Upon registration you will be provided a helmet and race overalls.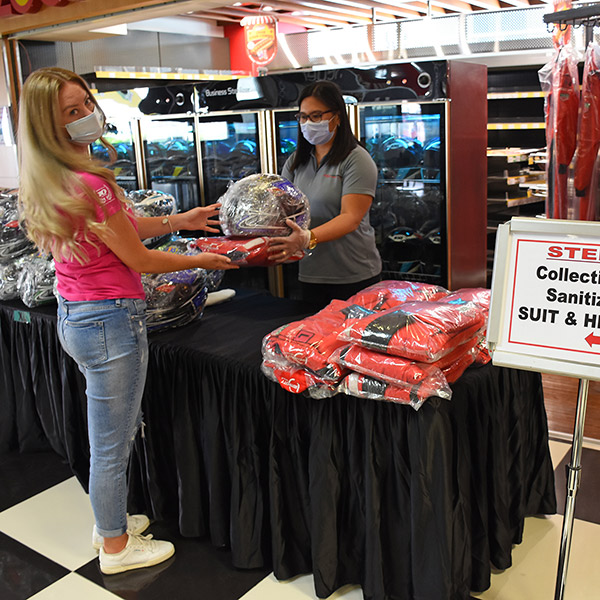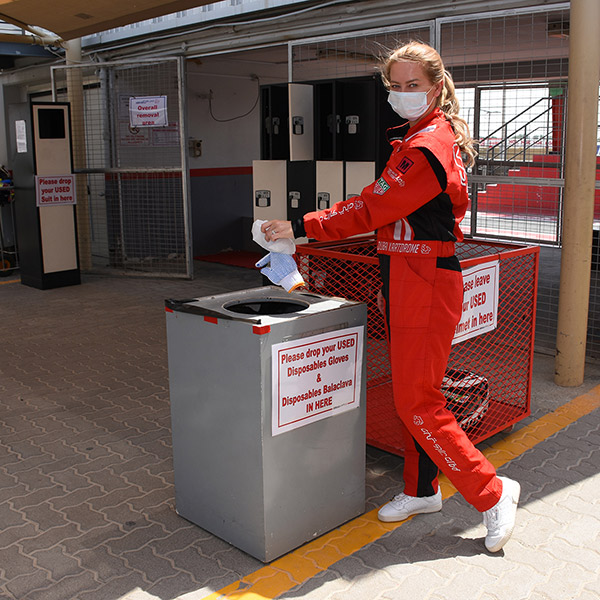 GENERAL SAFETY PRECAUTIONS
All visitors are temperature-scanned before entry to the venue with a maximum temperature of 38C allowed.
Kart customers only: spectators are unfortunately not allowed.
Water is available for sale in the reception area.
All visitors are required to wear masks at the venue and maintain social distancing of 2 meter at all times.
Any visitors encouraged to bring your own pen for disclaimer signature.
Our venue will have sanitizing stations located at strategic points with surfaces continuously cleaned.
Changing rooms will be closed.  Therefore, clients should arrive dressed in comfortable clothing so that all is required is for them to slip on a pair of clean overalls – if they don't have their own.
Bathrooms can only be used in emergencies.
If anyone is ill, they will be asked to see the on duty EMT for further action which will result in leaving the venue.
IMPORTANT INFORMATION
Booked sessions run to a strict timing flow.  Please arrive 30 minutes before your booked time.
No refunds or additional time will be provided for cancellations or late-arrivals.